Sponsored by the Washington Chapter of the American Parkinson's Disease Association and the Northwest Parkinson's Foundation, The Hope Conference was held in Seattle on Saturday, November 10, 2007. There were more than 700 people in attendance.
I began my journey at the Oakland Airport two days before. My flight was delayed. I was traveling outside of my comfort zone, without Jim by my side. Juggling my bags on my own reminded me that I'm just not the same person I once was.
It surprised me when I asked the gal at the airline counter to lift my bag onto the bag checking area. She refused. Clearly it wasn't because it was too heavy because after I muscled it up, she tagged it and then easily schlepped it onto a conveyor belt. I asked how someone with a disability is supposed to get such help. She said, "Sky cabs". I was wondering if part of her refusal to help was that I looked healthy. My meds were on 'Äì I wasn't shaking 'Äì at least not outwardly.
My daughter, CarlaRae, lives in the Seattle area and picked me up after a pleasant, uneventful flight. I see reflections of my own healthy youth in CarlaRae's eyes and in her warm smile. I immediately feel safe again 'Äì somehow stronger.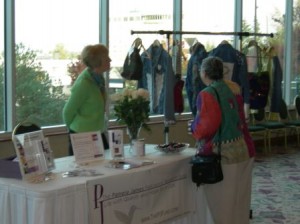 On Saturday morning at just after seven I arrive at the Hilton Seattle Airport and Conference Center with CarlaRae and her husband, Eric, at my side. It's a bustle of activity as the vendors and artists are setting up their exhibits. Our space is next to a wall of sunny windows. This is the first time that The PJ Fund is going to be an exhibitor at such an event. The excitement and anticipation ensured that I got even less than my usual four hours the night before.
The PJ Fund was received well. We accomplished our goal of getting the word out about our new fundraising organization. We sold 26 bracelets and even a couple pieces of my textile art.
A portion of our proceeds went to support the sponsors of the event and the remainder went to support the Parkinson's Research Group at Stanford's Neuroscience Institute.
By far the highlight of the event was meeting Davis Phinney. He addressed the conference with his words of courage and strength 'Äì his presentation "The Heart of a Champion" was appropriately titled. He told the story of the last time that he participated in the Tour de France. The race started three days after the birth of his son 17 years ago and Davis had not planned on racing at all. He found himself struggling to finish within the allotted time limit and dead last. He didn't give up. In the end, he finished two minutes within the allotted time.
Davis challenged each of us that waiting for a cure would be a mistake. That it is our obligation to live life with quality the best we can. Each day we all face trials 'Äì perhaps pouring a cup of hot coffee without spilling 'Äì taking that walk around the block. Our own little moments of facing challenge 'Äì"cure de moments" I think he called them. My mind raced back to the challenge of lifting my bag in the airport.
He encouraged me and his other peers with PD to embrace what we can do and in a way, we find our own cure. There is a future. He was quite inspirational when he had us all share in his trademark victory salute – raising both hands above our heads together. Visit The Davis Phinney Foundation to find out more about Davis Phinney and his organization.
The conference offered a wealth of information to those of us that attended. There was a discussion of New and Emerging Treatments by Dr. Monique Giroux of the Booth Gardner Parkinson's Care Center. There were breakout sessions on many other topics of interest, but the most significant thing that I walked away with was a reminder of the importance of talking and sharing with other Parkinson's patients.
Parkinson's patients have so many medications and treatment options available to us. The doctors can give us the various medications and their best experience and advice. However it is the actual Parkinson's community, those of us that live with the disease on a day to today basis, that often hold much more practical advice. I found myself sharing and receiving experiences with many new friends.
I'm on my way home now. I was surprised when the plane I was on stopped in Boise, Idaho before going to Oakland. How could I have missed that when I made my reservations? As I left Seattle, I thought of Davis Phinney's remarks at the conference. I wanted to raise my arms in victory as I received the baggage claim tickets from the SkyCab!