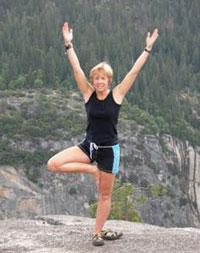 Exercise is beneficial to all of us. It helps to maintain healthy weight, increase energy, fight disease, and prolong life. It helps to improve the quality of our life. I find that one of the most beneficial types of exercise in my fight against Parkinson's has been Yoga.
Yoga helps to keep my muscles from getting too stiff and improves my balance, both mentally and physically. When I first try to learn a balance pose while practicing yoga, I fall right over. Then, I go home and practice, practice, practice. I am eventually able to perform the pose without falling. I have become convinced that, to some degree, balance can be learned, even by those of us with movement disorders.
It is easiest for me to keep my Yoga practice alive and healthy if I take classes. Each week that we are at home, I take one class at our local hospital and three at the health club. When traveling, I often seek out Yoga classes. I also practice on my own. I recommend Yoga for everyone!